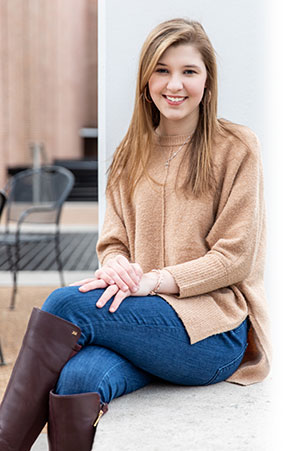 Allie is an accomplished pianist that plays all genres of music and wants to pursue what God has called her to do – performing and composing. At 20 years old, she has recorded 4 piano solo albums that have been published both physically and digitally and an EP of her own composition and arrangements. She started her piano journey at 3 years old when she became fascinated with her Grandma's piano. Allie never banged at the piano or made unpleasant sounds like young kids usually do but moved her fingers naturally on the keys. She began piano lessons at the beginning of 2nd grade, at the age of 7 with Beth Lawrence of Gainesville, GA, after her parents took her Grandma's advice to wait until she could read to begin lessons.
As soon as she started lessons, she began to develop more interests in music and was quickly excelling. Five years later, in 2012, several family members and friends asked for a recording of Allie playing, this led to recording several songs, which in the end was enough for an entire album, Barefoot Rhapsodies. To everyone's surprise, people were giving their CD's to other people so that her gift could be shared with others.
Due to the overwhelming response of Barefoot Rhapsodies, Allie recorded another CD titled Hallelujah at age 13, followed by That Holy Night, a Christmas CD, at the age of 14. She discovered the music of Kyle Landry on the internet through YouTube. She saw and heard in his arrangements that popular songs and movie tracks could be turned into advanced piano arrangements. This motivated her to play as he did and to start arranging and composing. His music showed Allie that advanced piano did not have to be just classical music. Allie was able to contact Kyle and took lessons via Skype during the summer of 2015, which led to personally meeting him and getting to play a duet with him, another milestone in her journey. While staying focused on her purpose, God continued to give Allie exceptional experiences.
Allie has been very blessed to meet other arrangers and composers such as David Hicken and Neil Patton. In 2016, David assisted Allie, not only with his songs and arrangements but advised her on what equipment and programs were the best to use. Her mom was most appreciative to David since these new tools eliminated a page turner during performances. The internet has been most valuable to Allie in discovering other pianists such as Dawayne Stamper, Matt Riley, and many other composers and arrangers. Through meeting or emailing these various composers and receiving their answers to questions, it has instilled in Allie to always do the same for other pianists. Gifts from God are to be shared with others. Allie completed her 4th album Open Eyes in 2017 which is a mostly hymn album and she prays it will encourage many people. In February 2020, Come Go With Me was released digitally as an EP.
Through high school, Allie took lessons twice a week from her local teacher, Beth, including studying theory and composition. In the fall of 2016, she started taking monthly lessons from Dr. Kristian Klefstad at Belmont University in Nashville, TN and in the spring of 2018 started jazz lessons with Dr. Anthony Belfiglio, also of Belmont University. She has attended numerous piano camps along with participating in the National Federation of Music Clubs in piano solo, hymn playing, theory, and original composition categories. In 2018, she was selected for Georgia's Governors Honors Program in Music.
After graduating high school in 2019 Suma Cum Laude, Allie continues her college education at Belmont University, studying with Dr. Klefstad and Dr. Belfiglio, pursuing a Commercial Music Degree with an emphasis on Piano Performance. Allie was a recipient of the Merrydale Woods Piano Scholarship from Belmont's School of Music and other various local and regional scholarships. She is a member of Belmont's Jazz Band II, member of Epsilon Lambda chapter of Sigma Alpha Iota at Belmont, and on the Dean's List.
In May 2020, Allie signed with the publisher Musicnotes to have her compositions and arrangements published as sheet music.
Her main priority in life is to honor God and her Christian beliefs. She feels that God has given her a talent to be shared with others and she wants to use it to honor Him. She loves playing the piano and all styles and genres of music and prays that the Lord will allow her to do it for the rest of her life.

"It is not fame that I desire, nor stature in my brother's eye, I pray it's said about my life, that I lived more to build Your name than mine."
~ Kari Jobe ~